CONTACT
Politehnica University of Bucharest
Splaiul Independentei 313
060042 Bucharest, Romania
Tel.: +4 021 402 9541
Fax: +4 021 402 9522
This email address is being protected from spambots. You need JavaScript enabled to view it.
Important dates 
15.12.2015 - Registration for submission              
15.01.2016 - Full paper submission                      
29.02.2016 - Notification of acceptance                
15.03.2016 - Camera ready paper submission       
15.03.2016 - Participation fee payment                
20.03.2016 - Preliminary program notification       
CONFERENCE COMMITTEES
International Programme Committee
Jonathan C. Borg, University of Malta, Malta
Catalin Gheorghe Amza, University Politehnica of Bucharest, Romania
Arnheiður Eythorsdottir, University of Akureyri, Iceland
Auðbjörg Björnsdóttir, University of Akureyri, Iceland
Eugenijus Telesius, Information Technology Institute, Lithuania
Renata Danieliene, Information Technology Institute, Lithuania
Monica Muresan, Bistrita Nasaud Chamber of Commerce, Romania
International Scientific Committee
Jonathan C. Borg, University of Malta, Malta
Catalin Gheorghe Amza, University Politehnica of Bucharest, Romania
Avril Thomson, University of Strathclyde, United Kingdom
Emmanuel Francalanza, University of Malta, Malta
Philip Farrugia, University of Malta, Malta
Teodora Chicioreanu, University Politehnica of Bucharest, Romania
Eugenijus Telesius, Information Technology Institute, Lithuania
Andrew Wodehouse, University of Strathclyde, UK
Franca Giannini, IMATI Consiglio Nazionale delle Ricerche, Italy
Balázs Vidovics, Budapest University of technology and Economics, Hungary
Saša Ćuković, University of Kragujevac, Serbia
Ionut Ghionea, University Politehnica of Bucharest, Romania
Thomas Lygutas, Information Technology Institute, Lithuania
Gabriel Tasca, University Politehnica of Bucharest, Romania
Franco Curmi, University of Malta, Malta
Paulina Spanu, University Politehnica of Bucharest, Romania
Benoît Eynard,  Université de Technologie de Compiègne, France
Sébastien Remy, Université de technologie de Troyes, France
Diana Popescu, University Politehnica of Bucharest, Romania
Mihalache Ghinea, University Politehnica of Bucharest, Romania
Conference Organizing Committee
Monica Muresan, Bistrita Nasaud Chamber of Commerce, Romania
Cristina Codau, Bistrita Nasaud Chamber of Commerce, Romania
Jonathan C. Borg, University of Malta, Malta
Catalin Gheorghe Amza, University Politehnica of Bucharest, Romania
Dumitru Titi Cicic, University Politehnica of Bucharest, Romania
Corneliu Rontescu, University Politehnica of Bucharest, Romania
Ionut Ghionea, University Politehnica of Bucharest, Romania
Gabriel Tasca, University Politehnica of Bucharest, Romania
Oana Roxana Chivu, University Politehnica of Bucharest, Romania
Radu Constantin, University Politehnica of Bucharest, Romania
Paulina Spanu, University Politehnica of Bucharest, Romania
Teodora Chicioreanu, University Politehnica of Bucharest, Romania
Authors are invited to submit complete unpublished papers, which are not under review in any other conference or journal. The accepted papers will be published in the Conference proceedings (with ISBN) and will be indexed in several International databases. Extended  versions of selected papers will be considered for publication in a special issue of an international journal.
Conference topics include, but are not limited to:
AR systems hardware and software
Applications on AR including for entrepreneurship
AR in VET and Higher Education
Information Visualization Using Augmented Reality Technologies
Visualization Techniques for Augmented Reality
Augmented Reality in Scientific Visualization
Mobile Augmented Reality
Augmented Reality for Distributed & Collaborative Environments
AR-based Navigation and Information Systems
Location-based and Recognition-based Augmented Reality
Augmenting Reality Visualization for Medicine, Architecture, Design, Marketing, Advertising, Training and other areas
Perceptual Issues in Augmented Reality
Technological, Psychological and Artistic Issues of Integrating AR Objects with Real-World Objects and Environments
Augmented Reality in Large and Complex Environments  
Conference fees
The conference fees are partly covered by the ARTE project, funded with support from EEA Grants (publishing of Conference proceedings, catering). For accomodation, travel arrangements and other details, please contact the conference secretariat at This email address is being protected from spambots. You need JavaScript enabled to view it..

Paper template
The official language of the ARTE'16 conference is English.
Instructions for authors on paper template are available here  in Microsoft Word Document format. 
Obs. Authors are required to present their paper during Conference proceedings in either English or Romanian language.
It is recommended that the electronic format of he paper should be Microsoft Word.
The papers should be submitted electronically at the This email address is being protected from spambots. You need JavaScript enabled to view it. email address.
On behalf of the Programme Committee, it is a great pleasure to invite you to the 2016 International Conference on Augmented Reality for Technical Entrepreneurs (ARTE'16), which will be held in Bucharest, Romania, on 1st of April 2016. Contributions from all the research communities working in the appropriate fields are welcome in order to compare the different approaches and to define common research priorities.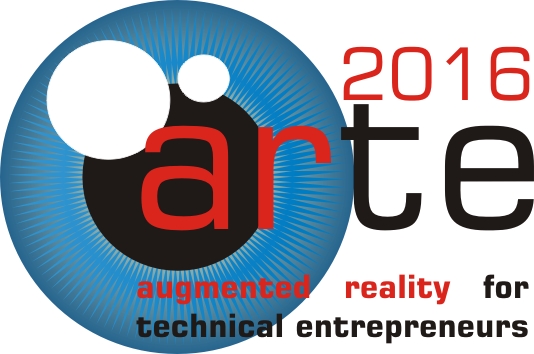 A big thanks for all participants !!!
Please have a look at the following photos from the conference !